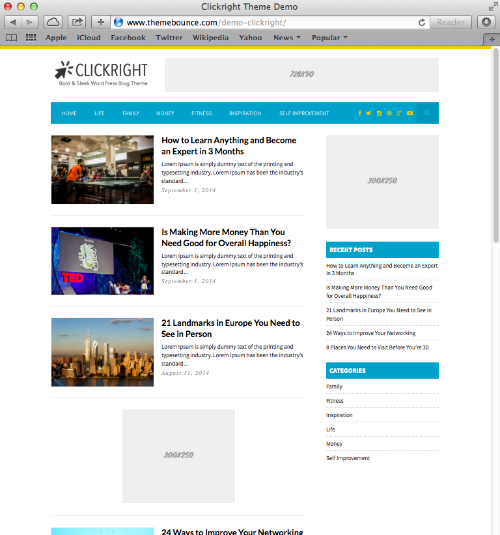 Clean, Sleek WordPress Blog Theme
A beautifully designed, high-performance blogging theme. Clickright is the perfect blend of optimized ad layouts with a beautiful content-focused design.
Clickright Features
Tested, optimized, and then turned into widgets. Clickright features Adsense-ready widgets precisely positioned in the highest Click Through Rate (CTR) layouts.
SUPER FAST SPEED
Enjoy lightning-fast load speeds. We built Clickright to be one of the fastest WordPress themes you will ever use.
ADSENSE OPTIMIZED
Clickright is an Adsense-ready WordPress Theme. After the development stage, we ran testing on different ad positions throughout the site. Then, we coded the highest performing positions into ad-widgets so all you need to do is copy and paste in your code.
ROCK SOLID FRAMEWORK
Clickright is built on our robust light-weight framework for speed and performance. We eliminated all unnecessary chunks of code that come with most WordPress themes and then fine-tuned the main components.
OPTIMIZED FOR SEO
Clickright is built for SEO. We spend a ridiculous amount of time making sure our themes have the absolute perfect on-site SEO structure. Themes without proper Schema is actually hurting your web project and Clickright is 100% Search Engine Friendly.
SUPER FAST SPEED
Speed and SEO optimization are the main principles behind ThemeBounce's themes. We've worked hard to turn UnoBlog into an ultra-light, lightning-fast WordPress theme.
RESPONSIVE Design
Clickright works on all devices. Built with responsive CSS, you'll enjoy beautiful layout and design on all screen resolutions.