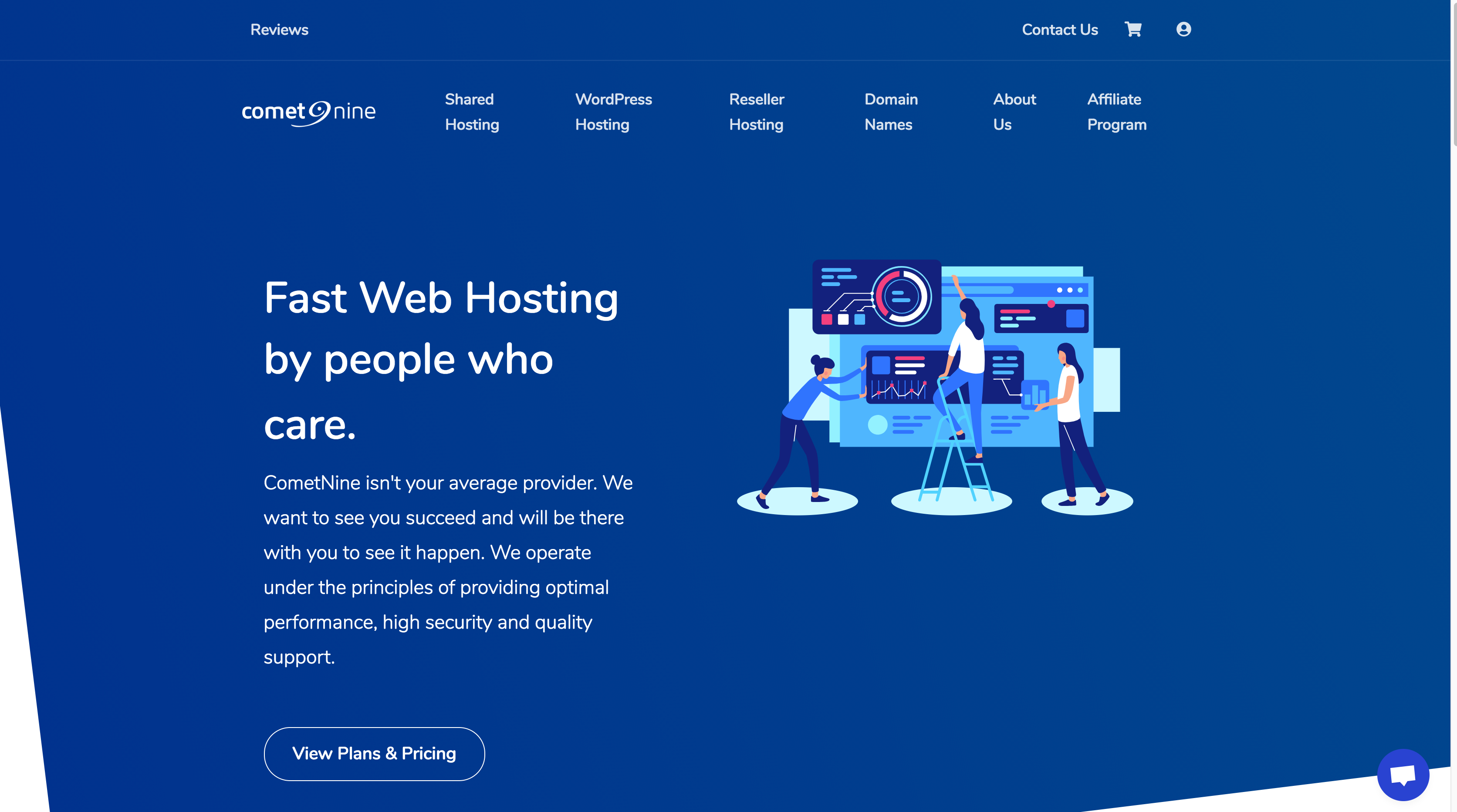 CometNine is a lesser known web hosting company but one that should be on your radar. With a strong focus on performance, security and support your website will only get the best service. To top it off, you get this at a fraction of the price of most companies. Did we mention a free domain name on any billing cycle (including monthly) and NO setup fees? Yeah, that is almost unheard of in this industry.
Pros:
Free Domain for Life (and it really is a no-catch free domain)
Excellent, personal customer support
Cons:
Does not offer Windows hosting
No Dedicated Server offering (these are coming soon from what we're told)
Free Domain for Life
This is one of several reasons we decided to try CometNine. They claim to offer a free domain name with all shared plans, on any billing cycle and with plans starting at $3.91 at the time of this review we had to put that to the test. Refreshingly, our domain was registered within minutes of ordering and being on the monthly billing cycle and not seeing a setup fee we were impressed.
Ease of use
If you're new to setting up a website it is important to know how easy it will be to get your website online. CometNine really does have a focus on the user experience such as only offering 2 packages based on how many websites you want to host.
The order process is pretty simplified. You won't see lots of upsells like most providers which made a nice change and they make it easy to setup the software you want with an automated script installer right in the cart! Our WordPress test site was ready to go as soon as we submitted a payment.
The control panel itself appears to be a pretty stock version of cPanel so if you are familiar with that then great. If not, well the CometNine support team is one of the best from what we have seen (but more on that below).
Customer Support
We truly put this to the test. We didn't actually need to contact support (which is always a good sign) so we had to create our own support case, a WordPress issue. While we had anticipated the usual 'this is outside our scope of support' we were amazed to see they took the time to actually look into the issue and point us in the right direction.
The issue we created was one with plugins causing a blank white page. They didn't actually make changes to our site to fix the issue (which you can see as a good or bad thing) but they did tell us where the issue was and how we can fix it (in this case just removing the bad plugin).
Pricing
This is where CometNine really shines. They provide such a level of service for the price point they're charging I genuinely do wonder how they do it or if they will be able to scale it up in the long-term.
At the time of this review, CometNine has Shared Hosting plans (their WordPress Hosting appears to be the same as shared hosting) limited by the number of websites you host. 1 website in the Pro plan and unlimited websites in the Pro+ plan.
Pro starts at $3.91 per month and includes a free domain name for the life of your account.
Pro+ starts at $6.28 per month and also includes a free domain name for the life of your account.
Conclusion
Their motto seems to be 'Fast hosting by people who care' and based on our experience I feel that is something they are living up to, even at their price point. If you are in the market for a hosting account then these guys are for sure one to be considered. Here is one of our favourite blogs for blogging guides.