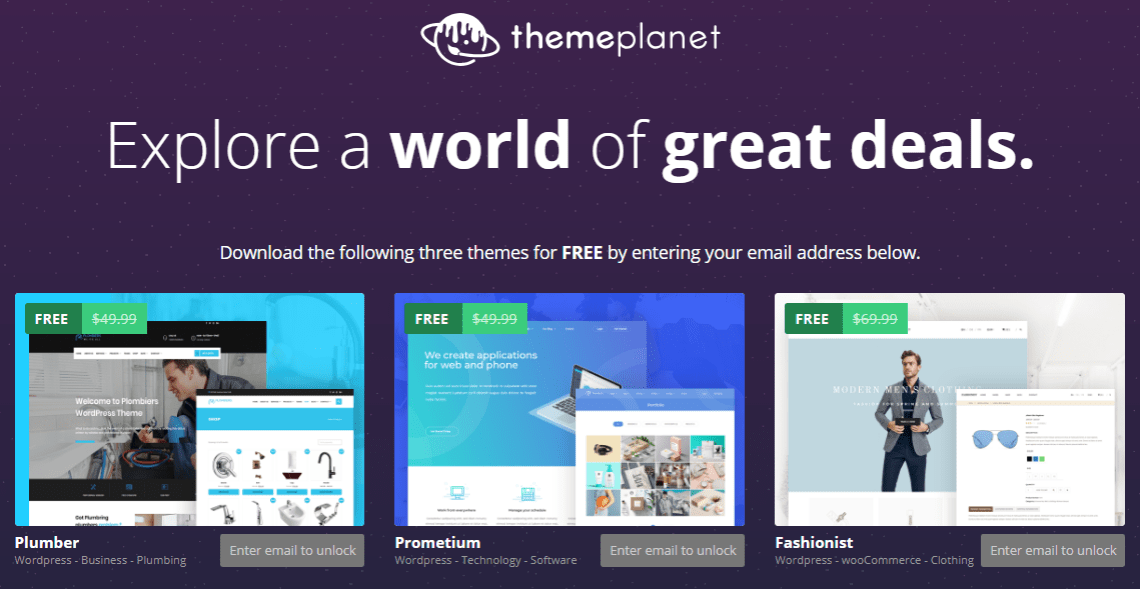 A website interface/theme/template is a crucial part of the website, it is what people see and interact with, and it is also the first aspect of a website that gets users engaged. A website theme/template goes beyond visuals; it also contributes to speed, efficiency, and overall user experience. Getting a theme designed requires three different web programming language; HTML (Hypertext Markup Language), CSS (Cascading Style Sheet) and JavaScript, all these codes have to be skillfully combined to design a standard website theme. But there are other options such as paying a theme developer or buying a premium theme on the internet.
Themeplanet
Themeplanet, an online marketplace for native website templates and CMS themes. The marketplace will be providing premium HTML5 templates and Content Management System themes. All themes and templates are premium standard but will be available at cheaper prices. Themeplanet provides three WordPress themes for you to have a taste of the quality of the themes you will be getting on the marketplace.
Fashionist
Fashionist was created for fashion related products websites, it has all the resources and tools need to run such websites comfortably. It is ideal for clothing, retail and fashion industries. It can also be integrated with Woocommerce for more e-commerce functionality.
3x Homepage
2x About Page
3x Portfolio
Shop Front
Shop Item
Shopping Cart
Wish List
Checkout
Blog Listing Page
Blog Post
Blog Archive
2x Contact Page
Multi-product and sub-product item support
Ratings and reviews
Multi-currency support
Multi-language support
Fashionist is built with clean and fully responsive; built with HTML5, CSS3 and Bootstrap 3.6.6. It features a full-width slider on the homepage, AccessPress Social plugins. Its package also includes Visual Composer drag and drop page builder, Mega Menu builder for easy and quick customization.
Plumber
Plumber is another WordPress theme created by Themeplanet. It is a theme suitable for physical trades such as carpenters, electricians, handymen, construction companies, etc. Plumber WordPress theme can also be used with Woocommerce plugin to expand its function.
3x Homepage
About Page
2x Our Services Page
Project Grid Page
Team Page
Shop Grid
Shop Item
Blog Listing Page
Blog Post
2x Contact Page
Include WordPress and raw HTML version templates
One click demo import
Full page homepage slider with slider revolution
Plumber is packed with every resource to showcase professionalism. It has a fresh look and feels and fully responsive. Like Fashionist, it also features a full-width slider on the homepage and KingComposer drag and drop page builder. Plumber package includes MailChimp and one-click demo importer.
Prometium
Prometium WordPress theme is a theme for the tech and software industry. Its color, typography, and layout are artfully combined to create the mood that welcomes visitors. Prometium is the most customizable out of the three, you can tweak the layout to whatever you prefer, Visual Composer drag and drop page builder that is included in its package makes this easier.
3x Homepage
3x About Page
3x Our Services Page
2x Project Grid Page
Project Page
Blog Listing Page
Blog Post
Contact Page
Sign up form
With its modern look and feel, Prometium stylish design makes possible to present products, services in a techy way.
Conclusion
All Themeplanet theme's and template's animations are compatible across browsers, each theme comes with its documentation and sample data. To get these free themes, head over to themeplanet.com and provide your email to unlock the download buttons.