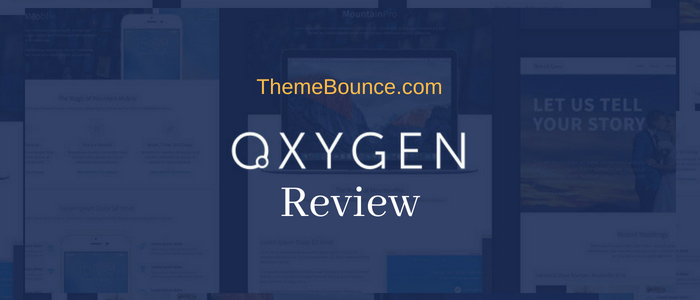 Oxygen 2.0 has finally released and the builder has relieved you completely from a boring WordPress theme but instead, you now have a powerful drag-and-drop visual builder and a customizable template system that allows you to visually design all aspects and bits of your website. The website builder is an upgrade of Oxygen 1.0 and with many added and convenient features we expect it to win the hearts of WordPress users like its ancestors.
If you ever wished to make your website a complete customization of your existing theme, you should definitely give this review a reading as it will take you through Oxygen 2.0 in bit by bit.
Some Top WordPress sites reviewed Oxygen as well. Check WPOutcast Oxygen Builder Review
Oxygen 2.0: How It Works
Oxygen has branded itself as a visual website builder. This has made it different from a regular page builder and in fact, you can use any page builders you want alongside Oxygen (Not that you need to). Oxygen doesn't rely on a WordPress theme but completely replaces your theme. Unlike other page builders like Beaver Themer or Elementor Pro, Oxygen doesn't work with an existing WordPress theme. Do you wonder how are you supposed to build your site once you don't have a theme?
Here's how.
Templates – You need to take these templates as building a theme from scratch. They serve as the foundation of your sie. You can have inbuilt templates for:
Singular for blog posts, pages, or custom post types. This is what visitors see when to come to any of your individual posts.
Front page – a customizable template for your front page.
Blog Posts Index – a separate and customizable template for your blog post page.
Archives – this is what visitors see when they view the archive, category or a tag.
Reusable Parts – these are things or widgets that you will be using every now. They are more like a block or a section so you can keep them stored for future use.
Pages – you can also design individual pages based on one of the templates that you have or from the scratch if you prefer.
How to Set up Oxygen 2.0
When you first install Oxygen, you have the option to select either loading the included Premade Websites or choosing to start from a Blank Installation.
Hands-on With Oxygen 2.0: Building A Template
We have already discussed what a template is. Let's now see how to build on one!
It only requires you to go to Oxygen → Templates → Add New Template.
When you create a new template, you need to specify how will someone be seeing that when it is live. You can do this using accordions and checkboxes.
For this example, If you want someone to see it as a blog post, that's how things will look like:
The best feature is that you can solely apply your template to specific:
You also have the option to set up another helpful feature called Template Priority. Basically, template priority is only for those cases where multiple post types can reflect one content type.
For example, you might have:
One template for All of your posts
Another template for posts that are in a specific category
Template Priority lets you choose that what should be given a priority:
It's important to understand that you have the option to combine several template designs together and come up with a new one.
This feature is valuable because it lets you create a prime template that, let's say, work for your header and footer and then you have other templates through which you can choose the content going in those headers and footers. It's completely your choice as to what you want to go in headers and footers.
This concept might take a little time for you to get used to if you are not a developer, however, if you get hang of it you'll realize how cool this feature is
Using The Oxygen Visual Editor
Here's what you see when you first open the visual editor:
On the left side, you can see a +Add button. You can add new page elements by clicking the + Add button. These elements can be divided into 5 sections:
Basics are simple elements like text, containers, images, and your own code block. The second section, Helpers, contain more advanced elements, like a header builder, social icons, post grids, pricing boxes, etc. WordPress contains WordPress-specific elements like a menu, comment form, login form, sidebar, post information, etc. Library gives you access to the pre-built design sets. Lastly, Reusable allows you to access your own saved reusable parts.
How To Insert Dynamic Data Into Your Designs
Another reason why Oxygen goes beyond standard page builders is the ease that it provides to import dynamic data from WordPress database. For example:
Post title featured image or the content.
A custom field
Current username
You can insert dynamic data in two ways. First, you get an Insert Data option when you are editing elements. If you can click the Insert Data button to open all the options, this will be shown:
You can use the Previewing drop-down option to choose a specified area of the content and preview that. Here's how it looks:
You can also insert data dynamically from some part of your website to the other.
To add to the perks, Oxygen also offers pre-built Dynamic Data elements that you can add directly to your page without getting into the hassle of using use the Insert Data interface:
Here's what it is like to insert a custom field with the Custom field element (We have added this field with Pods for reference):
How To Style And Edit Elements
You can edit the element using the same sidebar as you add them:
You have the option to set up:
Background
Spacing
Colours
Typography

Exploring The Builder More
The builder provides you with a Manage section, in this section, you can manage and add stylesheets for your theme and edit them in code editor:
Building Pages
Apart from setting up templates, you can use Oxygen with individual pages as well. You can use an existing template for a page or make it a fresh from the scratch as you wish.
Pricing
Oxygen has an attractive licensing system for those who are developers or need it for agencies. It's available for $99 to be used on infinite sites which means you can use it on the sites of clients as well and charge them. Most of all, you get lifetime support and updates. You get money as well as get to win the competition if you are using Oxygen. The renewal fee is there though.
Who is Oxygen made for?
Oxygen wins the competition with Beaver Themer or Elementor 2.0 if you want a tool that lets you build the entire theme. The templating system, including how you can have templates inherit from other templates and the whole process to set priorities, gives you relaxed control over multiple content types. Moreover, you get the following plus benefits:
The flexbox layout makes it very easy to set up certain page layouts. You don't have to rely on columns or manually set for the alignment of each individual layout.
Oxygen's functionality seems quicker and simpler.
It comes with ease of use as well as the depth of functionality.
It gives a 30-days money back guarantee so there's no harm trying it.
It will hardly take you fifteen minutes to build a website with Oxygen 2.0.
The cons that we see are: We don't feel Oxygen is fit for a beginner as Beaver builder. Especially for those are unfamiliar with Oxygen 1.0, they will definitely find it super hard. It isn't just an architecture enhancing tool but a lot more than that so those who are beginners of WordPress should not be wasting money on Oxygen 2.0.