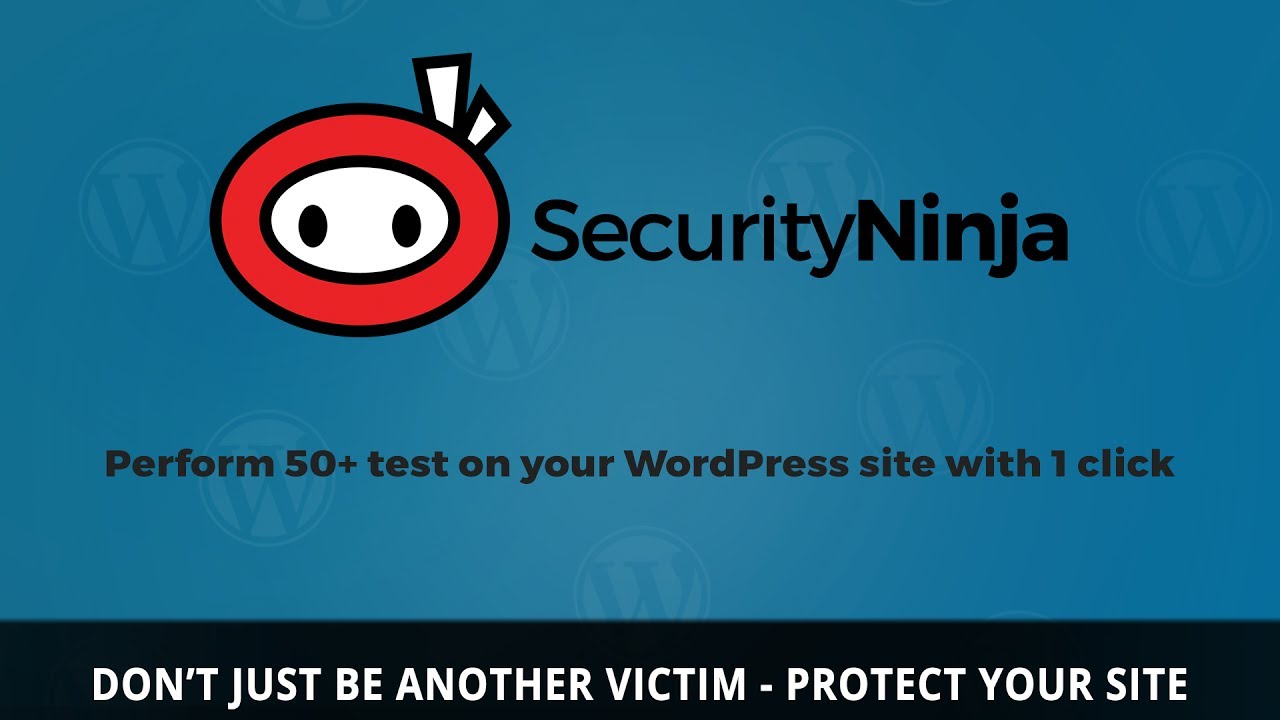 Here's something we can both agree on…
Security of a money making website comes first, right?
But…how?
What security plugin you should choose that protect your WordPress website from hackers.
Did I just say WordPress website?
Yes, I did.
WordPress is pretty popular CMS worldwide. In fact, it powers almost 27 percent of the entire internet.
That popularity has put WordPress on hackers' radar. Actually, they think hacking a WordPress website is easy to hack and in most of the cases, they are right.
Now, this is important…
In 2012 alone, more than 170,000 WordPress websites were hacked. More than 70% of WordPress websites are still in danger zone.
Isn't it serious?
Yes, it is.
You won't believe what I discovered…
Security Ninja PRO.
What is Security Ninja PRO?
Security Ninja PRO is a tiny yet powerful WordPress security plugin that protects your website from hackers.
WordPress vulnerability scanner plugin is serving clients for past 7 years. As a matter of fact, it has protected over 20,000 sites till date.
The best thing about this WordPress security plugin is – it doesn't make any changes to your website. In other words, you will have complete control over your website.
Furthermore, it is user-friendly and enabled with some powerful module that I will cover in this Security Ninja PRO Review.
Amazing Features of Security Ninja PRO
Runs over 50+ security tests with just one click
Runs daily checks to find any vulnerabilities and holes.
Stop zero-day exploit attacks
Detailed information and solution provides for about every potential threats
Powerful modules monitor and harden the security.
Remote Access feature that allows you manage Security Ninja functions of multiple sites from a single place
Destroy vulnerable script that causes hacking
Security Ninja does not make any changes
Powerful Modules of Security Ninja PRO
Security Ninja PRO is jam-packed with amazing features and powerful add-on modules. Let's see how each module protects your website:
Core Scanner Module: WordPress contains lots of core files in it that you might think is important. But that's not the case; there are still some core files that aren't necessary.
Actually, core files are the best place where hackers often hide malicious codes even expert developers can't find them
This is where Core Scanner comes into the action. It scans all the core files present on the website to find the recent changes and report to you.
Malware Scanner Module: As the name described Malware Scanner scans the complete website including plugins, themes, database, etc. to find any potential malware or suspicious code.
Its powerful heuristic malware scanning algorithm runs over 20 tests on every single file.
Scheduled Scanner Module: I know Security Ninja scan and fix the potential threats but it doesn't mean that you have to do it manually every time.
I can almost hear you thinking…
What's the solution then, right?
Scheduled Scanner. Yes, you can use this module – it automates the scanning process and reports you if find any changes or malicious code on your website.
Events Logger Module – This is the best for those who are running a multi-author website and wants to know what is happening on their website.
The Event Logger module in Security Ninja logs over 50+ events including plugin modifications, log in and log out actions, failed login attempts, post edits, changes in WordPress settings, changes to widgets, etc.
Auto Fixer Module – Those who don't like to mess with coding, creating backups, editing files, etc. Auto fixer module is best for them.
All these tasks could be done with a single click using auto fixer module.
Cloud Firewall Module – There is a quote "The best defense is a good offense."
Somehow this is true in when it comes to website protection. Don't wait for hackers to hack your website better protect your WordPress website before they strike you.
Cloud Firewall will help you in that case. In general, it has already blocked over 600 million bad IPs and protected thousands of website from data theft.
How to Use Security Ninja?
As I already have told you, Security Ninja PRO lets you keep the ball in your court. In other words, it doesn't change anything to your website that's what makes it best WordPress security plugin.
Moreover, you will have full control over your website all it does silently protect your website.
In order to get started with it, you have to download Security Ninja PRO from its official website. As it's a WordPress plugin, therefore, to use you have to install it on your WordPress website.
After installing Security Ninja move to the "Tools > Security Ninja PRO" to open the plugin settings page.
You will be welcome with the "Security Ninja test were never run" message. Click on the button "Analyze" to run the first security scan appearing under the Security Tests tab.
Once the scan completes you will be represented by the following stats.
When you will click on the "Details, tips and help" next to the failed result a popup will show up with error and solution to fix that.
In order to completely scan your website, you have moved towards core scanner tab. It will completely scan all files on your website to see if recently any changes happened to your website.
Case in point:
It lists all the files that have changed earlier. That makes easy for you to go and look for those files to make necessary changes.
In case, if you want to test Malware Scanner module, move to the Malware scanner tab and click on the button "SCAN FILES FOR MALWARE."
As soon as malware scans finished, you will see all the files that look vulnerable to Security Ninja.
To see the more details about those files click on the down arrow button.
Nevertheless, not every file are dangerous, therefore, if you are confident about the files you see you can whitelist them by clicking on the button "Whitelist File."
You can walk you to the event logger tab if you are curious to know what other admins will be doing on your website.
Since Security Ninja doesn't send email notification automatically, therefore, to get the email notification you'll have to make some changes in the "Settings" appearing at the top of the Event Logger tab.
What's next?
Scheduled Scanner – when you are busy you can schedule automate scanning – it scans your website and reports if find something suspicious.
Final Words!
If you are the guy who doesn't compromise on your WordPress website security, you should definitely give Security Ninja PRO a try.
The little WordPress scanner plugin is favorite WordPress Security Plugin of marketers and bloggers.
Its easy-to-use powerful module makes it best WordPress security plugin in the WordPress repository.
For those who want to try FREE Security Ninja can download Security Ninja lite from the WordPress plugin repository.
I hope you found this Security Ninja PRO helpful and if you want to go ahead with more, then read this guide of setting up manual WordPress Security. Let me know your thoughts in the comment section.